Almost all of us have come in contact with Poison Ivy, Poison Oak, or Poison Sumac at some point in our lives. While most people suffer some sort of reaction to any of these plants, I have a particular serious reaction to Sumac.
I have had 2 very serious cases of sumac out breaks. The first time I encountered sumac, I was not aware that I was even handling the vine. I cannot stress the importance of arming yourself with this knowledge. I chose to go visit my family doctor for treatment. She prescribed prednisone in a zee pack for me. I am not a big fan of steroids for a variety of reasons but, I was desperate. This time when I discovered that I had once again contracted sumac, I decided on a more homeopathic route.
While I have stayed away from sumac, it does grow in my yard and since I have pets, the oil from the plant can get on the fur and be transferred in that manner. So be aware of the different ways that you can come in contact with these plants.
I have tried many methods to rid myself of this bothersome malady. I have listed some of them below and the results so that you may decide for yourself if this is a route for you. Please keep in mind that this is not a method that will rid you of this in a week or less. You have to be diligent and consistent to be rid of the rash.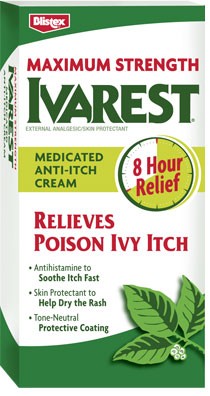 1. Technu and Ivarest. These are over the counter soaps, foams and creams that can help ease the discomfort. In order for them to work properly, it is best if you use them as soon as possible after coming in contact with the plant in question. I found that the Ivarest medicated anti itch cream helped a great deal. I was able to use the Technu on some places after the rash appeared and it dried up those places. But, with the Technu I did not rinse it off. I just left it on the areas and I think that went a long way towards clearing up the areas.
2. Epsom salt and vinegar baths. These methods also offered some relief. I did not use this method much but it does work. But, you will smell like an Easter egg if you opt for the vinegar baths.
3. Aloe Vera Gel. This is readily available at any local grocer if you do not have a lot of Aloe Vera plants. I found that this offered as much relief as the Ivarest medicated cream. I kept this in the fridge because it felt better when applied cold. One advantage over the medicated cream is that it is clear so you can apply it to areas that are not covered by clothing.
4. Hot/Cool Showers. I found that the hot showers worked much better for me than the cool showers. You have to stay in the shower for a while but you will feel relief when you exit. With the hot showers, you want to be in water that is VERY hot, almost intolerable hot. You will want to stay in the shower for at least 15 minutes with either method that you choose. With either one, you should be prepared to itch at first. But, the longer that you are able to stay under the water, the more relief you will have when you exit the shower. The advantage to the hot shower is that when you exit, you can visibly see all the areas that have been exposed since they will be quite red from the hot water.
Please note that these methods are not going to work over night. There are also several things that I have done around the house during this time that has helped with my recovery. I will share those with you in my next post. It has taken me several weeks to overcome this, but I was able to do it with no steroids and that is not a bad thing!